We treat your house as a completely integrated system.

Instead of focusing on a single home component, we consider how all components work together more efficiently to provide an optimal in-home environment. We start with our comprehensive energy audit, which combines building science and modern technology to evaluate the energy efficiency of your home. Our detailed report addresses your concerns and prioritizes the recommended retrofits.
BPI Certified
We were the first Building Performance Institute accredited company in Southern California and a verified contractor with the California Building Performance Contractors Association (CBPCA; Lic # 932241). We also participate in the Home Performance with Energy Star Programs. Our staff can perform all the remediations, saving you 20% to 50% off your energy bills, while making your home energy-efficient, healthier, more comfortable, durable and lowering your carbon footprint.
What makes the Building Doctors different?
We were the first Building Performance Institute (BPI) accredited company here in Los Angeles, CA which means we do all of our work, both our energy audits and upgrade work, to a higher set of standards. We do all of the upgrades in-house. We have our own trucks with insulation removal & installation machines and air sealing equipment with crews trained in all advanced installation techniques.
HVAC Installations & Repair
Building Doctors is a licensed Heating, Ventilation and Air Conditioning (HVAC) contractor that has crews trained to install equipment in the most efficient manner possible. Using the whole-house approach, we look at all of your systems to see how they operate together to make your home work as one completely integrated system. We avoid the scheduling headaches and added expense of subbing work to outside contractors, allowing us to get the job done sooner and at a lower cost to you.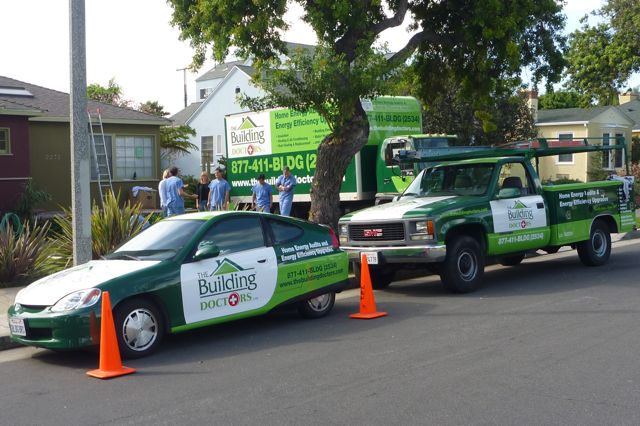 For a free phone consultation please call 1-323-646-BLDG (2534)