National security concerns, environmental impactsm and rising fuel prices are driving the evolution of our nation's transportation sector.
Are you considering a hybrid or full-electric car? More and more automotive manufacturers are introducing electric vehicles into their product portfolios. In fact, every major automotive manufacturer has either launched or has plans to launch plug-in electric vehicles (PEV's) in the U.S. market by 2015.
While the current initial cost to purchase a PEV can be expensive, battery technologies continue to evolve and smaller batteries with extended ranges will eventually lower upfront costs. Federal tax incentives may help ease the cost difference between a PEV and a traditional gasoline vehicle. Incentives can take many forms such as tax rebates, utility rebates, preferred parking spaces and access to high-occupancy vehicle lanes. Additionally, some utilities offer special charging station electrical rates to PEV users.
Charging Stations:
Charging stations are the point of power for electric vehicles, ranging in style and charging levels and are subject to standards and codes. It is important to note that while electric vehicle supply equipment (EVSEs) are most commonly referred to as charging stations, they are not battery chargers. The main purpose of a charging station is to establish communication with the vehicle and to transfer power to the PEV while providing proper grounding, shock protection, overload protection and general safety.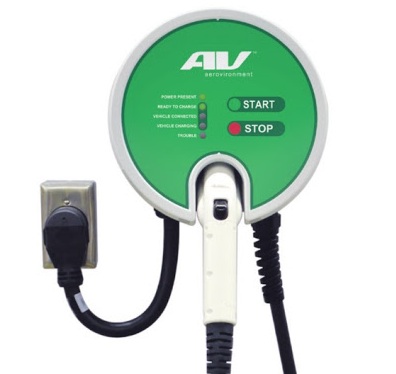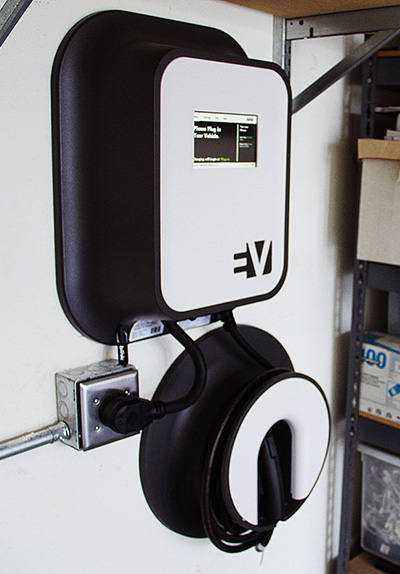 Residential Installations:
When considering installation of a charging station, planning is vital. Taking the time up front to gather specific information will allow for time and cost savings over the course of the installation. The first step in assessing your charging options will be to determine your current or planned parking scenario. The intended use, such as daytime or night-time charging should also be considered when determining a vehicle-parking and charging location. Ensure overhead doors do not conflict, along with other objects.
Ensure installation does not conflict with vehicle ability to park in garage. Eliminate locations in a garage requiring a cord to be wrapped around or draped over the vehicle in order to reach the charging port.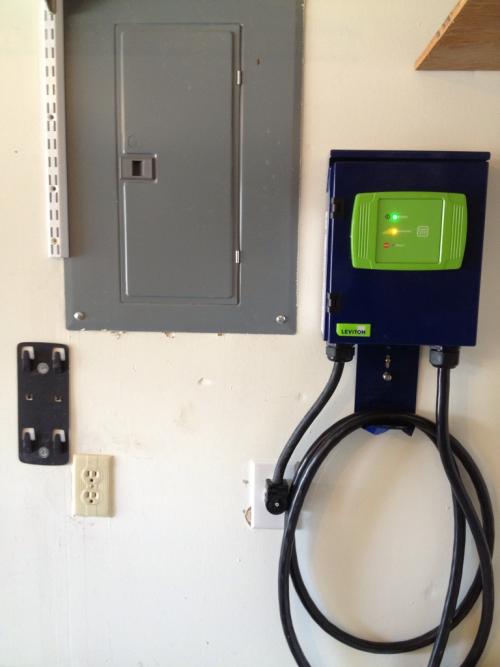 AC Level II Charging Units:
Level 2 charging units come in both a modular model (removable units that plug into a standard 208/240 volt outlet) and a hard-wired model (units that are wired directly to your home's electrical system). Modular models are easier to install as they can be plugged directly into to a standard 208/240 volt outlet, which are typical of your larger home appliances, such as a refrigerator or dryer. Level 2 charging station installation costs can vary considerably. Factors affecting cost are the number of charging stations, the features and functionality of the selected equipment, and the complexity of the installation. As a rule of thumb, costs tend to increase with increasing distance from the parking location to the available power source.
LADWP Charging Station Rebate Program:
LADWP provides residential customers rebates of up to $750 when they purchase or lease a qualifying electric vehicle (EV) and 240V charging station. The rebate covers the purchase 240V charging station. The rebate applies to single family homeowners and residents living in apartment buildings or condominiums as long as they receive permission from the property owner and/or homeowner association. The requirement to install metering under the previous program has also been removed for customer convenience.  Customers who choose to install a separate Time-of-Use meter for their EV charger to take advantage of the LADWP off-peak EV discount rate will receive an additional $250 credit on their LADWP bill.
For more information, call (323) 646-2534 or email us at info@buildingdoctors.com