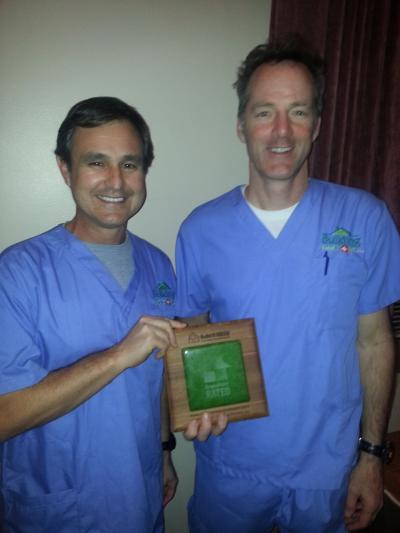 Mark Hensley, Green Point Rater and Dan Thomsen, President 
The nonprofit, Build It Green announced that Building Doctors won a 2013 Green Point Rated Award and has been named California's Home Performance Contractor of the year for 2013.  The award honors Building Doctors for its leadership in residential green building in California and its role in expanding the number of high quality homes built or remodeled to the standards of Green Point Rated, the most trusted independent green home certification program in California.
"We are honored to receive this award and happy that our quality work in the home performance industry is being recognized" says Dan Thomsen, President of Building Doctors. "Along with this award for 2013 we received Angie's List Super Service Awards in the insulation and energy audits categories. We were also honored to receive Achievement Awards from the Energy Upgrade CA rebate program for the third year in a row."
Each year the Green Point Rated Awards recognize those whose on-the-ground efforts are helping to transform the market for green homes by building and remodeling homes to Green Point Rated standards for energy efficiency, water efficiency, indoor air quality, resource conservation and community features.
"We're thrilled to present this award to Building Doctors for their innovation and dedication to green building. Thanks to their work, California homes and buildings are healthier and more comfortable, save energy and money, and have a smaller carbon footprint," said Catherine Merschel, Build It Green Executive Director. "The Green Point Rated Award winners like Building Doctors are changing the way homes are designed, built and remodeled."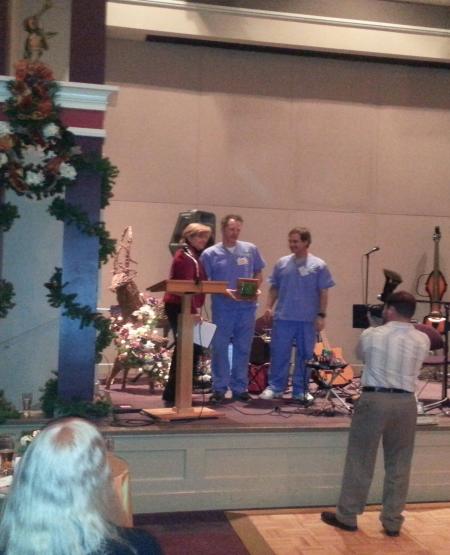 Catherine Merschel, Build It Green Executive Director presents award to Dan Thomsen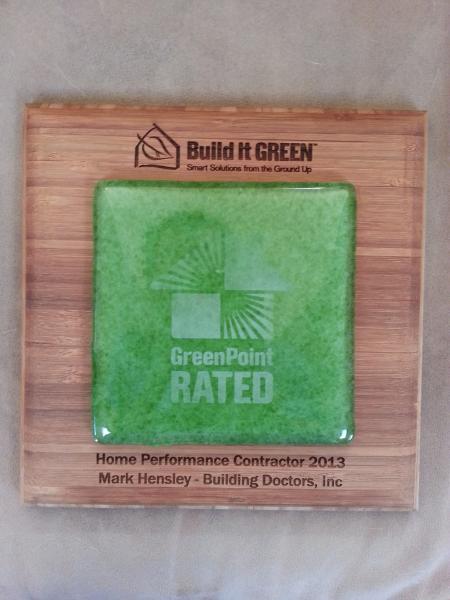 Build It Green Award Home Perfornace Contractor of the Year 2013
Building certified green homes is a key strategy to help meet the state of California's climate and energy goals. Green Point Rated is the most trusted independent green home certification program in California, providing proof that a home is healthy, comfortable, durable and resource efficient. More than 21,000 homes have been rated through the program, which is administered by Build It Green. These homes have collectively saved more than 58 million kilowatt hours of electricity, 259 million gallons of water and 103,000 metric tons of carbon emissions.
"2013 was a great year for Building Doctors and the home performance contracting industry." said Dan Thomsen. "We include the Green Point Rating with all the comprehensive Energy Upgrade projects we complete. We have increased sales and grown our company by citing the study showing that homes with green labels appraise for 9% higher than those without."  http://articles.latimes.com/2012/jul/22/business/la-fi-harney-20120722 "This increase in home values helps the homeowners justify the expense to complete the upgrades."  states Thomsen.
Steve Senigram, Realtor with Keller Williams says "Now that the Green Point Rating is a line item on the Multiple Listing Service in Los Angeles, home buyers are becoming aware of the difference between an energy efficient home and ones that are not. It is like a mile per gallon sticker for your home."
The story was picked up in hundreds of online papers and websites.
You can find the Press Release here: